Reflect Reconciliation Action Plan
Acknowledgement of Country
We respectfully acknowledge the sovereign Custodians of Gadigal Country and pay our respects to Elders, past, present and emerging. We acknowledge the rich cultures, customs and continued survival of First Nations peoples on Gadigal Country, and on the many diverse First Nations lands and waters across NSW.
We acknowledge the spirit of the Uluru Statement from the Heart and accept the invitation to walk with First Nations peoples in a movement of the Australian people for a better future.

NCOSS Reflect Reconciliation Action Plan 2022-2023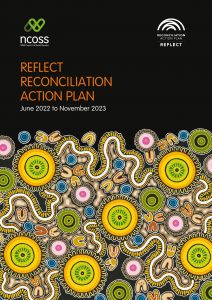 The NCOSS Reflect Reconciliation Action Plan 2022-2023 (RAP) is a part of the work that needs to be done to ensure the commitment of the NSW Council of Social Service (NCOSS) to Voice, Treaty, Truth.  We know there are many perspectives on these issues and will walk alongside First Nations partners, peaks, organisations and communities to showcase their many voices, perspectives, research, and campaigns.
Formalising our Statement of Commitment to reconciliation through this RAP is a critical next step in our journey. NCOSS strives to be a stronger ally to First Nations peoples and communities. We will take an active stand against racism, including policy and practice that is racially biased. We will speak out against racism, but we will not speak on behalf of First Nations peoples. We will walk in solidarity.
Our role is to advocate for a fairer, more inclusive NSW and to provide leadership for our sector, collaborating with First Nations communities and partners, and seeking to listen and learn with First Nations peoples to increase self-determination, empowerment and quality of life.
The RAP commits us to a holistic framework of fundamental principles that will guide our work with First Nations stakeholders:
Self-determination – First Nations peoples leading conversations, actions and decisions on matters that concern them.    
Empowerment – including and privileging voices of First Nations peoples.
Partnership – working with First Nation partners and communities.
Collaboration – working in collaboration and co-designing with First Nation partners.
Respect and Reciprocity – working in reciprocal, respectful, open, and honest ways.
Cultural humility – striving for cultural competency, with integrity and accountability.
Representation – ensuring First Nations representation on NCOSS advisory groups and other policy platforms.
The RAP was created in conversation with First Nations stakeholders and NCOSS staff. It builds on the work that we already do and holds us accountable.  The implementation of the RAP is guided by the lead RAP consultant Rowena Lawrie from Yamurrah, and the First Nations Partners and Advisors Group (PAG), chaired by Boe Rambaldini – Bundjalung Elder and Associate Professor Macquarie University and Belinda Field, CEO Yerin Eleanor Duncan Aboriginal Health Services.
We will publish an annual RAP Report documenting our progress and keeping us accountable to the many actions and deliverables in the RAP.
NCOSS Support for a Voice to Parliament
NCOSS supports a YES vote for the First Nations Voice to Parliament. In discussion with the NCOSS First Nations Partners and Advisors group we recognize that the issues surrounding the Voice are complex.  You can read about our approach and the statement of support here.
RAP Artwork: One Step of Many More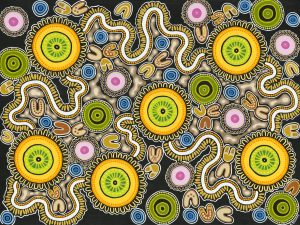 The artwork in the RAP is by Wandi Wandian artist Karlie Stewart, from Yuin Country on the South Coast of New South Wales.  You can read more about Karlie and her artwork One Step of Many More in the RAP.