NCOSS 'Vision, Voice, Value' 2022 Conference: recordings and highlights

NCOSS 'Vision, Voice, Value' 2022 Conference: recordings and highlights

This event has now passed.
Big thanks to all participants (both in person and online), speakers, panellists, watch parties and sector partners for a significantly memorable event, and for all your work towards providing real 'Vision, Voice, Value' within the NSW social and community health service sectors.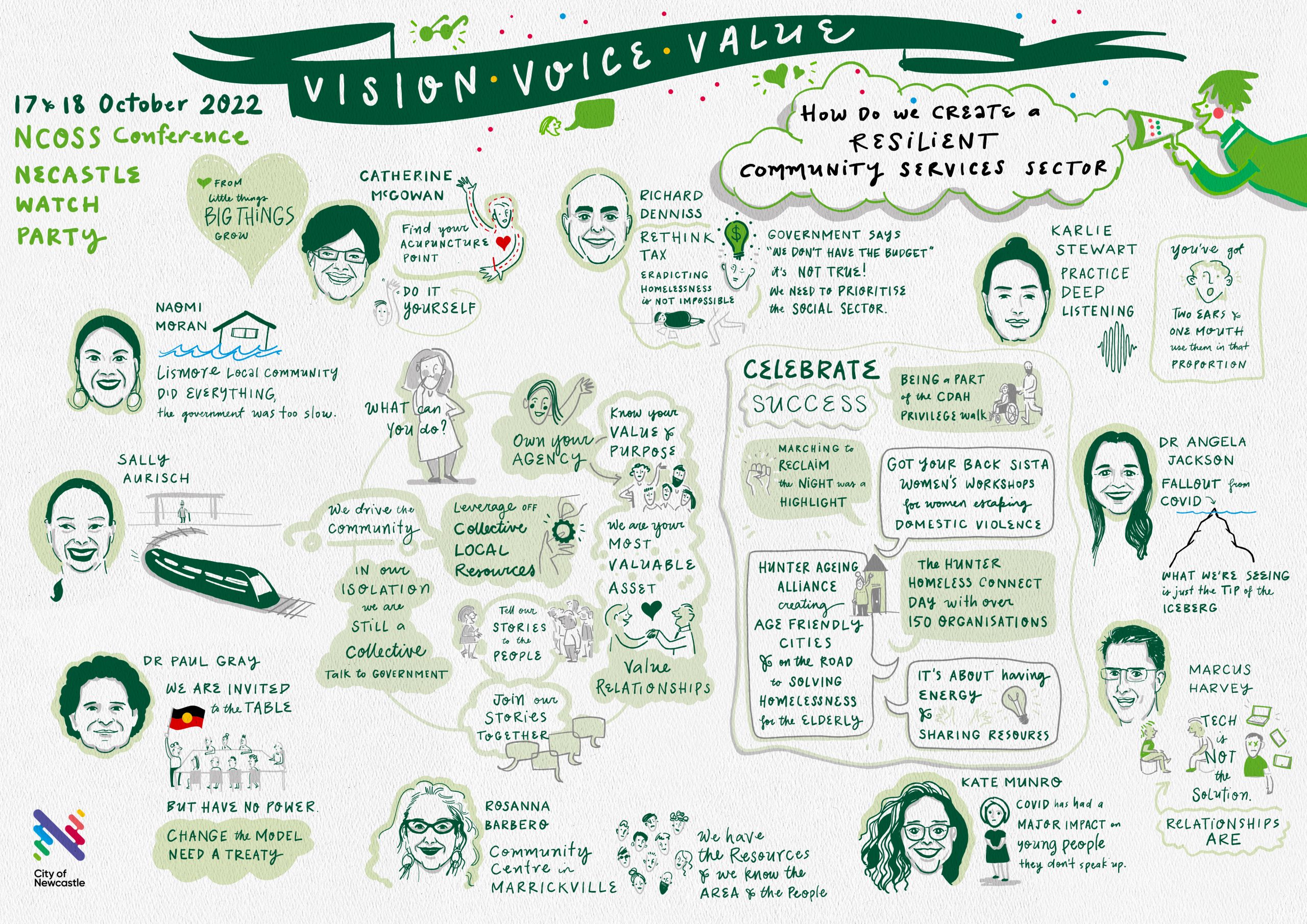 The image above captures the thoughts and feedback of conference participants at the regional watch party collaboratively hosted by the City of Newcastle and Mosaic Cultural Connections. Credit: Alex Wegner, compliments of The City of Newcastle.
---
Missed the conference, or keen to revisit the learnings?
Session recordings are now available. Please click on the links below.
EVENT HIGHLIGHTS (2 videos, less than a minute each)
RECORDINGS OF CONFERENCE SESSIONS (visit page for individual session links)
Our Voice, Our Vision, Our Values: Evolving Our Sector - Joanna Quilty
From Little Things: The Power of Community in Times Like These - Catherine McGowan AO
Panel Discussion: Advancing a Fairer Australia
Addressing the Economic and Social Costs of the Pandemic and Natural Disasters- Dr Angela Jackson
Listening to Local Voices and Doing What it Takes to Support Our Communities- Naomi Moran
Panel discussion: Organisational and Sector Sustainability
Changing the Narrative – The Social Services Sector and Women's Contribution, Richard Denniss
Panel Discussion: Addressing Workforce Challenges and Positioning Our Sector for the Future
Panel discussion: "Collaboration, Simplification, Integration: Learnings from the Social Sector Transformation Fund (SSTF)"
Reimagining our Sector: Developing an Agenda for Action (audience engagement)
Playing Back Our Stories: Playback Theatre Sydney
---
Here's what some of you said about the NCOSS 2022 'Vision, Voice, Value' Conference.
Excellent and found it extremely valuable to connect with other services from across the state again in person.
This was such a deep uplifting experience.
Venue- spot on, dinner- amazing. Smaller breaks worked well as did panel style discussions. Absolutely fantastic conference for reenergising the sector.
The quality of the panellists was outstanding.
Loved the playback theatre. They embodied the conference outcomes so well.
The topics were certainly relevant and reflected the "lived experience" of the community sector throughout the last few years. Also, it was a wonderful use of the SSTF funding. It allowed regional organisations to attend a conference, that they do not always have the opportunity of doing so. (Co-participant) and I, both had great and informative conversations with people representing many different service types, but most importantly, are wonderful advocates for the communities that they work with.
---
Vision, Voice, Value: charting a new course for the NSW social services sector
17-18 October 2022, Monday and Tuesday
Rebel Theatre (at Australian Theatre for Young People)
Eora Country, Pier 2/3, 13A Hickson Rd, Dawes Point NSW
---
After a tumultuous few years, NCOSS is excited to bring you this two-day face-to-face and online event.
The event will recognise the vital role that the social services sector has played in 'getting us through' - particularly in the aftermath of fire, floods and COVID-19.
It will be an invaluable opportunity to reflect on our successes; and to consider how we can capitalise on our growing visibility as essential service providers, and our position as the largest growth industry in New South Wales.
Find out more - NCOSS V3 2022 CONFERENCE
---
What else is on offer (apart from brilliant content)?
Option to attend online
Option to join a regional 'watch party'
Option to host your own regional watch party, with NCOSS support
Travel and accommodation for eligible regional participants
---
Registration is now closed.
Conference registration is FREE, but eligibility criteria apply. Please visit the V3 conference website for more information.
---
This event is convened by the NSW Council of Social Service (NCOSS) and is supported by funding from the NSW government under the Social Sector Transformation Fund (SSTF) 2021-2022 grant program.

---
NCOSS is proud to have the following organisations as members of the conference advisory group. We're very grateful for their invaluable advice, feedback and overall partnership in this undertaking.
• AbSec
• Community Legal Centres NSW
• Fams
• Health Consumers NSW
• Local Community Services Association
• Network of Alcohol and other Drug Agencies
• Shelter NSW
• Sefa
• Youth Action
---
QUERIES TO: info@ncoss.org.au (Attn: SSTF symposium)