NCOSS/DCJ 'Evidence Talks' online learning series

Virtual Event
NCOSS/DCJ 'Evidence Talks' online learning series
August 31, 2021 @ 1:30 pm

-

November 18, 2021 @ 11:00 am

Virtual Event

Free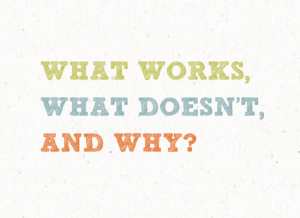 Resources from this learning series (recordings and slide decks) that are publicly available can be found HERE.
Update, 12 Nov: RSVP for session 3 on 18 Nov has closed. Thanks for your interest!
---
NCOSS / DCJ 'Evidence Talks'
Every gove

rnment dollar wasted on a poor

program is a dollar that a working person doesn't have to spend on groceries, health care and education. It is also a dollar that the government does not have available to spend on its policy priorities.
Lindsay Tanner, Minister for Finance and Deregulation*, quoted in Franklin, M. "Out, out damned waste", The Australian, 20 September 2008
...And so the challenging but important work continues for taxpayer-funded services to be evidence-informed.
Photo credit: https://usaidlearninglab.org/events/performance-monitoring-what-works-and-what-doesnt-webinar-among-development-partners
---
What is evidence-informed practice? 
The NSW Department of Communities and Justice defines evidence-informed practice as "using evidence to design, implement and improve our programs and interventions". This evidence can be from research studies, lived experience and client voice, and professional expertise.
In this free online learning series, we will 'go back to basics' and relearn concepts, whilst preparing to use the highly-anticipated DCJ Evidence Portal when it launches in September/October.
---
UPCOMING
Thursday 18 November 2021, 11:00 am-12:30 pm (live Zoom session)
Using the new DCJ Evidence Portal as a 'go-to' data source
---
Looking at DCJ's upcoming Evidence Portal:
Learn more about the Portal's features.
Unpack one or two sample resources and discuss contextual background.
Identify some "do's and don'ts" in applying the resources' learnings to one's own practice.
WHO SHOULD ATTEND
Community service managers, trainers, sector development workers who are leading teams in the use of evidence-informed resources.
Staff who are leading the shift towards an 'evidence-informed' culture in their workplace.
Please register via the RSVP button below (ended, 12/11). Thank you.
---
LEARNING FACILITATORS/PRESENTERS
Johanne Gow |Manager of Evidence and Strategy NSW Department of Communities and Justice (DCJ)
Jo has been with DCJ since 2004, and has worked across many portfolios within the Department in the past 17 years. These include the Parliamentary and Cabinet unit, Multicultural Services, Legislative Review, Royal Commission team and Office of the Deputy Secretary Commissioning. She's held her current role, supporting the TEI and other early intervention programs towards achieving better outcomes for children, families and communities in NSW.
Anthony Shannon | Director of Early Intervention Volunteering and Youth, NSW Department of Communities and Justice (DCJ)
Anthony is no stranger to NCOSS members and participants, having joined us in many previous sector forums and meetings. Anthony has held a number of positions across DCJ/old FACS over more than 15 years- at head office leading statewide targeted earlier intervention, child protection and homelessness reforms; and at District level, managing NGO disability and community services funding, community development and sector partnerships.
Dr Amy Conley Wright (BA MSW PhD) Associate Professor of Social Work and Policy Studies University of Sydney| Director of the Research Centre for Children and Families
Amy leads an extensive portfolio of applied research to build evidence about strengthening family and cultural connections, and promoting well-being for children in out-of-home care, focused on active exchange of research findings into policy and practice through substantial engagement with the government and non-governmental sector. To date, her research has attracted over $3.4 million in external research funding, including from Australian Research Council, Australian National Organisation for Women's Safety (ANROWS), and the Australian Institute of Criminology. Amy has published four books as well as authored more than 50 peer-reviewed journal articles, book chapters and commissioned research reports.
Ken Zulumovski |Founder, Gamarada Universal Indigenous Resources (GUIR) 
In 2019, Ken Zulumovski Hon DHSc (USyd) received the honorary award of  'Doctor of Health Sciences' by The University of Sydney for his outstanding contribution to Australian society. He is the founder and managing director of Gamarada Universal Indigenous Resources (GUIR) Pty Ltd and the Not for Profit, Gamarada Indigenous Healing and Life Training Pty Ltd
GUIR provides specialised and tailored services to individuals and organisations across the private, government and community sectors. GUIR's spheres of influence include health, mental health, education, justice, and employment and community engagement across the social & emotional wellbeing fields. GUIR specialises in program co-design and evaluation, coaching, mentoring, cultural supervision, and organizational capacity building underpinned by the GUIR COURAGE Coaching Model. The model combines Australian First Nations wisdom traditions with Western behavioral science and elements of military leadership and is used extensively for staff training, program development and community engagement. GUIR works to promote community cohesion with a focus on marginalised groups who may be at risk of radicalisation.
Gamarada was recognised by the NSW Department of Premier and Cabinet with an Excellence Award for Building Leadership in Indigenous Communities.
For eight years, Ken served as a soldier in the Australian Army Reserve and gained experience as an Artillery Crew Commander and Defense Force Career Advisor for the Australian Defense Force, Indigenous Recruitment and Career Development Program.
---
PREVIOUS SESSIONS
Tuesday 31 August 2021, 1:30-3:00 pm
Back to basics: FACSIAR's Evidence 'How To' Guides 
---
What is Evidence?
What is an Evidence Hierarchy?
Finding quality research and evidence
Assessing the quality of research evidence
FACILITATOR- Katie Page - Senior Evidence Officer | Strategy and Evidence-FACS Insights, Analysis and Research (FACSIAR), NSW Department of Communities and Justice
Katie is a Senior Evidence Officer in the Strategy and Evidence team of DCJ's Family and Community Services Insights Analysis and Research unit (FACSIAR). Her role involves evidence work, knowledge translation and supporting development of the evidence base for NSW State Outcomes and Premier's Priorities. Katie has a Master of Policy and Applied Social Research and undergraduate degrees in social work and social science. She has also worked in inner Sydney homelessness services and in child protection/out-of-home care practice and policy in NSW Government.
FOCUS AREAS
Key concepts in recognising and using various types of Evidence
Appraising good quality evidence for everyday practice
WHO SHOULD ATTEND
DCJ-funded services & stakeholders
NSW community service coordinators/managers who are looking to refresh their knowledge and understanding of 'Evidence'.
Staff who are leading the shift towards an 'evidence-informed' culture in their workplace.
RSVP has closed, thanks for your interest and/or participation!
---
Wednesday 15 September 2021, 10:00-11:30 am
Revisiting your Theory of Change 
---
Using case studies, participants will:
Discuss an example or two where a Theory of Change was (or was not) validated by reported outcomes.
Identify ways that a service can pivot/potentially enhance outcomes by updating its Theory of Change.
WHO SHOULD ATTEND
Primarily, NSW not-for-profit services that had developed their Theory of Change (ToC) in 2020-21, and are now revisiting it in order to enhance outcomes.
Other community services that are looking to use ToCs and Program Logics as tools to enhance outcomes.
RSVP has closed, thanks for your interest and/or participation!
FACILITATOR – Robin Miles | Director, Social Equity Works
Robin is the Director of Social Equity Works, and she also works for the Miller Group as a Principal Consultant. Robin has worked for over 30 years in the human services sector in NSW, working in government departments, in the higher education sector and as a private consultant. She provides sector support to TEI-funded services and has also supported services during the homelessness reform process. Robin is an experienced evaluator and a member of the Australasian Evaluation Society. She has conducted many evaluations of large and small-scale projects and programs. Robin is a passionate advocate for the importance of measuring outcomes to strengthen service delivery, as well as for the core role that Theory of Change plays in defining a program's overarching process in order to achieve change.