NCOSS/DCJ 'Evidence Talks' online learning series

Virtual Event
NCOSS/DCJ 'Evidence Talks' online learning series
August 31 @ 1:30 pm

-

November 18 @ 11:00 am

Virtual Event

Free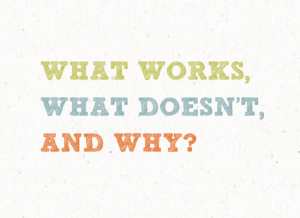 Resources from these sessions (recordings and slide decks) that are publicly available can be found here.
Update, 17 Sept: 7 OCT (SESSION 3) IS RESCHEDULED.  We've received advice that information about DCJ's Evidence Portal will not be publicly available until November. The new date is 18 Nov. RSVPs will be taken until places are filled, &/or till 11 Nov. Thanks. 
Update, 9 Sept: Thirty (30) new spots have just been made available for session 3. RSVP now!
Update, 27 August: Missed out on a spot? Email info@ncoss.org.au (Attn: Training) to get on a waiting list. 
---
NCOSS / DCJ 'Evidence Talks'
Every gove

rnment dollar wasted on a poor

program is a dollar that a working person doesn't have to spend on groceries, health care and education. It is also a dollar that the government does not have available to spend on its policy priorities.
Lindsay Tanner, Minister for Finance and Deregulation*, quoted in Franklin, M. "Out, out damned waste", The Australian, 20 September 2008
...And so the challenging but important work continues for taxpayer-funded services to be evidence-informed.
Photo credit: https://usaidlearninglab.org/events/performance-monitoring-what-works-and-what-doesnt-webinar-among-development-partners
---
What is evidence-informed practice? 
The NSW Department of Communities and Justice defines evidence-informed practice as "using evidence to design, implement and improve our programs and interventions". This evidence can be from research studies, lived experience and client voice, and professional expertise.
In this free online learning series, we will 'go back to basics' and relearn concepts, whilst preparing to use the highly-anticipated DCJ Evidence Portal when it launches in September/October.
---
Session 1 (live Zoom): Tuesday 31 August 2021, 1:30-3:00 pm
Back to basics: FACSIAR's Evidence 'How To' Guides 
---
What is Evidence?
What is an Evidence Hierarchy?
Finding quality research and evidence
Assessing the quality of research evidence
FACILITATOR
NSW Department of Communities and Justice
Katie Page- Senior Evidence Officer | Strategy and Evidence-FACS Insights, Analysis and Research (FACSIAR)
FOCUS AREAS
Key concepts in recognising and using various types of Evidence
Appraising good quality evidence for everyday practice
WHO SHOULD ATTEND
DCJ-funded services & stakeholders
NSW community service coordinators/managers who are looking to refresh their knowledge and understanding of 'Evidence'.
Staff who are leading the shift towards an 'evidence-informed' culture in their workplace.
RSVP has closed, thanks for your interest and/or participation!
---
Session 2 (live Zoom): Wednesday 15 September 2021, 10:00-11:30 am
Revisiting your Theory of Change 
---
Using case studies, participants will:
Discuss an example or two where a Theory of Change was (or was not) validated by reported outcomes.
Identify ways that a service can pivot/potentially enhance outcomes by updating its Theory of Change.
FACILITATOR – Robin Miles | Director, Social Equity Works
WHO SHOULD ATTEND
Primarily, NSW not-for-profit services that had developed their Theory of Change (ToC) in 2020-21, and are now revisiting it in order to enhance outcomes.
Other community services that are looking to use ToCs and Program Logics as tools to enhance outcomes.
RSVP has closed, thanks for your interest and/or participation!
---
Session 3 (live Zoom):  Thursday 18 November 2021, 11:00 am-12:30 pm
Using the new DCJ Evidence Portal as a 'go-to' data source
---
Looking at DCJ's upcoming Evidence Portal:
Learn more about the Portal's features.
Unpack one or two sample resources and discuss contextual background.
Identify some "do's and don'ts" in applying the resources' learnings to one's own practice.
FACILITATOR
NSW Department of Communities and Justice
Katie Blair- Senior Project Officer |Strategy, Policy and Commissioning
WHO SHOULD ATTEND
Community service managers, trainers, sector development workers who are leading teams in the use of evidence-informed resources.
Staff who are leading the shift towards an 'evidence-informed' culture in their workplace.
Please register via the RSVP button below. Thank you.
---
ABOUT OUR LEARNING FACILITATORS 
Katie Page is a Senior Evidence Officer in the Strategy and Evidence team of DCJ's Family and Community Services Insights Analysis and Research unit (FACSIAR). Her role involves evidence work, knowledge translation and supporting development of the evidence base for NSW State Outcomes and Premier's Priorities. Katie has a Master of Policy and Applied Social Research and undergraduate degrees in social work and social science. She has also worked in inner Sydney homelessness services and in child protection/out-of-home care practice and policy in NSW Government.
Katie Blair is a Senior Evaluation Officer in the Targeted Earlier Intervention (TEI) Program of the Department of Communities and Justice. She has worked in NSW Government for 3 years, supporting various program areas in using evidence and data to design and implement effective programs and services. She has also worked in academia for over 6 years conducting various research and evaluation projects as well as lecturing and tutoring. Katie has a Doctorate of Philosophy and a Bachelor of Social Sciences (First Class Honours) from the University of Western Sydney.
Robin Miles is the Director of Social Equity Works, and she also works for the Miller Group as a Principal Consultant. Robin has worked for over 30 years in the human services sector in NSW, working in government departments, in the higher education sector and as a private consultant. She provides sector support to TEI-funded services and has also supported services during the homelessness reform process. Robin is an experienced evaluator and a member of the Australasian Evaluation Society. She has conducted many evaluations of large and small-scale projects and programs. Robin is a passionate advocate for the importance of measuring outcomes to strengthen service delivery, as well as for the core role that Theory of Change plays in defining a program's overarching process in order to achieve change. 
'Evidence Talks' | DCJ Evidence Portal- 18 Nov