Our children stand to pay the highest price for the upheaval caused by the natural disasters and pandemic.
This Anti-Poverty Week (16th – 22nd October) we will be urging the NSW Government to prioritise funding that will ensure children in NSW can thrive by having a safe and secure home, are connected to the right services to support them at the right time and that their families have enough money to cover the basics.
Poverty affects far too many Australian children and families, diminishing their lives now and in the future. In NSW, one in six children live in poverty[1]. As a result of the pandemic, the increasing recurrence of natural disasters and rising disadvantage, poverty will likely become further entrenched and children will bear some of the greatest impacts.
Many children continue to live in precarious situations that take away from their ability to thrive and enjoy a safe and healthy childhood. They are living in households experiencing violence, financial insecurity due to the rising cost of essential goods and are at risk of homelessness due to a shortage of affordable housing[2].
Ensuring that children and their families are able to connect with the right support at the right time will play a crucial role in halving child poverty by 2030. This year Joanna Quilty, NCOSS CEO and Brad Webb, Castle CEO are pleased to Co-Chair the NSW Anti-Poverty Week (APW) Steering Group. The Steering Group is made up of organisations that are connected to their community and committed to ending poverty.
NSW Child, Family and Community Peak Aboriginal Corporation (AbSec)
Country Women's Association
Fams NSW
Financial Counsellors Association of NSW
Homelessness NSW
Mission Australia
NSW Council of Social Service
Older Women's Network
Police and Community Youth Club (PCYC)
St Vincent de Paul
Alongside Fams, Homelessness NSW, AbSec and others, NCOSS has commissioned a series of reports from Impact Economics and Policy. The series Aftershock: Addressing the Economic and Social Costs of the Pandemic and Natural Disasters explores the impacts of the pandemic and natural disasters across four key domains of wellbeing – mental health, domestic violence, housing security and child welfare and development.
The report focused on child wellbeing and development will be launched on Wednesday 19 October in line with Anti-Poverty Week.
The Need for Action
To break the perpetual cycle of poverty, The NSW Government must prioritise investment targeted at getting children off to a good start by:
Advocating to the Federal government to lift income support payments, like the Parenting Payment, to at least $73 a day and to establish a single parent supplement that recognises the additional costs of single parenthood. This supplement should increase as children get older, given the cost of children rises as they age.
Committing to resourcing and working with place-based and specialist service providers including women's services, Local Government, housing providers, Aboriginal Community Controlled Organisations and Aboriginal Housing Providers to deliver appropriate social and affordable housing so that women and children escaping family and domestic violence can exit crisis accommodation into safe, secure and healthy homes when and where they need them.
Increasing core funding for generalist and/or place-based support services, like neighbourhood and youth centres, children and family services, Aboriginal Community Controlled Organisations and multicultural services, that connect families with culturally-appropriate wraparound support in communities in need and boosts the services' capacity to act as soft entry points to more targeted, specialised services.
Increasing funding of high-quality school tutoring programs and integrating provision of whole-of-family, early intervention health and social services into the school environment in at-risk communities.
How to Get Involved
Download and share: Social Media Tiles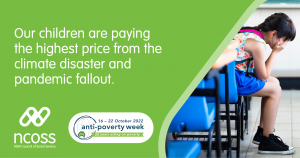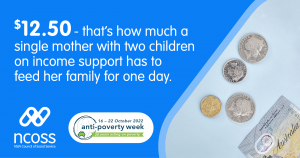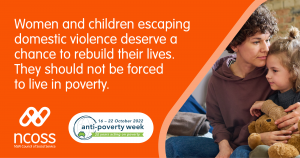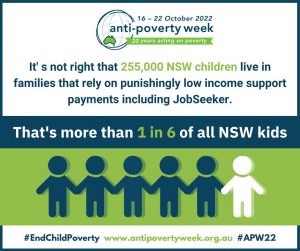 Take the pledge to halve child poverty by 2030.
Social media handles to tag:
Facebook:  @NSWCouncilofSocialService @antipovertyweek
LinkedIn:    @NSW Council of Social Service (NCOSS)
Twitter:      @_NCOSS_ @AntiPovertyWeek
Instagram: @_ncoss_ @antipovertyweek
Hashtags:  #EndChildPoverty #APW22 
APW Events Around NSW
If you would like to host an event or get involved please contact the NCOSS team at advocacy@ncoss.org.au
---
[1] Vidyattama, Y., Tanton, R., and NCOSS., (2019), Mapping Significant Economic Disadvantage in New South Wales, NATSEM, Institute for Governance and Policy Analysis (IGPA), University of Canberra.
[2] Summers, A. (2022). The Choice: Violence or Poverty. University of Technology Sydney. https://doi.org/10.26195/3s1r-4977