On Day 7 of the Commission on the Status of Women NCOSS held its next session in collaboration with the National Women's Alliances - looking at learnings from the New Year for Women campaign. The session focused on:
Learning from Indigenous communities and leaders;
Finding common ground with business and government;
Voices of young leaders; and
Targeted and innovative solution for marginalised women & girls.
NCOSS Young Women's Advisory Panel represenative Keira Jenkins was a panelist during the session. Here are her thoughts: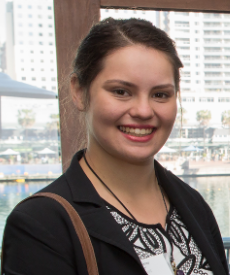 Keira Jenkins
Today was NCOSS's second event for CSW61. I walked from the room feeling invigorated and with new passion for the work I've been doing here. Hannah Gissane, Tracy Howe and I, with the help of Lisa Witter as the moderator each brought a different perspective to the table at the front of the room, and with the entire audience involved. The wealth of knowledge and experience in the room was overwhelming.
I feel after this session, I had not just shared my own experiences but had learnt from the experiences of others too. There were women from diverse walks of life, sectors, and representing countries from around the world.
We talked about the four principles behind NCOSS's new year for women campaign. We also talked a lot about intersectionality and the importance of listening to diverse voices. And that's exactly what we were doing.
Indigenous women from Australia and New Zealand, women from Nigeria, Sudan, Nepal, and Japan were all speaking alongside and working together on solutions.
If that's not the embodiment of what NCOSS is trying to achieve with New Year for Women, I dont know what is!
With thanks to the sponsors that made our young women reps' trip possible: