On Day 3 of the Commission on the Status of Women NCOSS held a joint side event with the Australian Government: National action on Indigenous women's economic empowerment (Australia, Canada and New Zealand perspectives)
The event included a panel discussion from women from each nation, sharing their experiences. The panel included:
Canada's Minister for Tourism and Culture, the Hon. Jeanie Dendys, MLA
Ms Helen Potiki, Director of Policy, New Zealand's Ministry for Women
Maori Women's Welfare League President Prue Kapua
Ms Keira Jenkins - Gamillaroi woman (north-western NSW), nominated member of Seven Sisters Aboriginal Women's Advisory Panel and Young Women's Advisory Panel
Ms Leann Wilson – Bidjara and Kara/Kara women (central and central-west QLD), Executive Director Regional Economic Solutions; Indigenous Fellow of Bond University and member of the Australian Government's official delegation to CSW61
Read our NCOSS young women's representatives' report back from the day.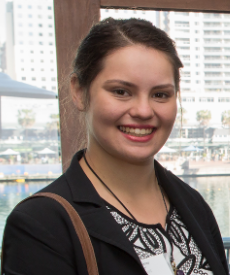 Keira Jenkins
Indigenous women have a voice - and its a damn strong one at that - please let us speak for ourselves. I spoke on a panel with powerful and wonderful Indigenous women from Canada, New Zealand and Australia yesterday and I was inspired to hear their voices and their stories and they empowered me to tell my own story.
The Canadian Minister for Tourism and Culture, Jeanie Dendys, told the stories of the thousands of Indigenous women who are murdered or go missing in Canada. She asked the question, "How can you be empowered when you are not safe in your own home, how can we be economically empowered when we are in crisis?"
She told the hard realities of life for Indigenous women in Canada, and the history of oppression the country has had to fight hard to shake off. "The reality is that colonisation and oppression have broken our people, and it has disconnected our family systems," she said.
Maori Women's Welfare League President Prue Kapua also spoke about the effects colonisation had on the Indigenous people in her home country of New Zealand.
"Colonisation has made empowerment very difficult," she told the audience. "Colonisation is a system that our people have been forced to adapt to."
She spoke about the importance of Indigenous voices, saying ours were voices that, "Have not always been easily accepted, but have always been there."
She spoke about the issues arising from governments choosing only to speak with certain groups and the need to include groups from a range of backgrounds to avoid the systematic discrimination that has coloured colonised societies throughout their histories.
Leann Wilson, a Bidjara and Kara Kara woman from western Queensland also spoke of the richness of Indigenous voices.
"My family was never rich in money, but we were rich in so many other ways," she said. "Every Indigenous person is an expert because of the traditional knowledge we hold within our cultural beings."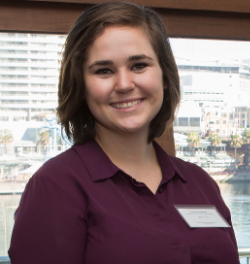 Lauren Stanley
On this day I attended two notable sessions, the German Government's side event regarding older women, and women with disability, and NCOSS and the Australian Government's side event regarding the economic empowerment of Indigenous women.
The former was the only session of its type – whilst others had mention of women and with disability, this was the only session to include older women. With a globally aging population this is surprising; the overarching theme of economic empowerment does typically conjure an image of younger women, however as older, single women, and women with disability are some of the most economically vulnerable groups, hopefully their voices manage to hold more attention for the next commission. This session spoke about the importance of accessibility of cities and neighbourhoods as part of economic empowerment. On this topic it is truly a case of if you don't have to think about it, you are privileged. For a person without a disability, objects that pose serious access issues for others, are not even thought about. For example, the pedestrian lights in NYC do not sound when it is safe to cross, like they would in Australia. This tends to confuse Australians, and I know that I missed more than one set of lights because I was waiting for the alert sound. However if I was sight impaired there would be no official signal for me to cross, there were no tactile tiles to indicate the edge of the path, and additionally with the snow, walking by oneself would have been treacherous. That's only one example of a very wide variety of choices, but it is definitely food for thought I think.
From the latter panel, my take away was a reinforcement that communities, and especially indigenous communities need autonomous, grass roots, collectivist change. As Jeanine Dendys, the Yukon Minister of Tourism put it, "Parachuting in to do something for the community will never work". This was echoed by each of the Indigenous speakers from New Zealand, Canada and Australia.
With thanks to the sponsors that made our young women reps' trip possible: