Introducing Aon's NFP Insurance Puzzle Solver
Is your organisation missing a piece(s) of your Insurance Puzzle? Are you paying for cover you don't need or are you certain you have the cover you need in the event of a claim?
NCOSS Community Cover, available through Aon, is insurance with customised features designed to meet the particular needs of not-for-profit organisations.
Now it's even easier to find out if you've got the right cover with our insurance broker, Aon's, new online tool; the NFP Insurance Puzzle Solver.
Together we want to ensure you find and apply for the right insurance cover to keep your organisation, volunteers and employees protected while doing their work.
We know too many insurance options and too much jargon can often make it unclear whether you will actually be covered in the event of a claim. The solution? Aon's Insurance Puzzle Solver.
It's a new, simple, interactive and customer-friendly online tool that, by answering just a few questions recommends the insurance best suited to your organisation and gives you the opportunity to apply for only that cover online.
There are also new online forms, with handy, jargon-free

explanations to help you understand any difficult insurance questions.
As all social services organisations are unique, your insurance package should be too. Find out the covers your NFP needs by trying our Insurance Puzzle Solver today: aon.com.au/ncoss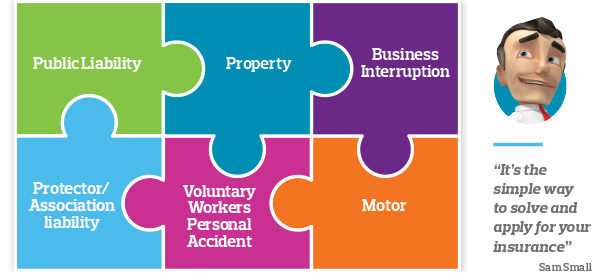 Aon's NFP Team:
aon.com.au/ncoss 1800 123 266 au.nfp@aon.com
A dedicated insurance team with 30 years NFP sector experience – so you can trust you're getting the right insurance from people in the know.
Your partner during a claim – we help through the process of settling a claim with our insurer, should the worst happen.
Expert advice – during purchase and renewal, so that you're not under or over-insured i.e. so that you've got the right pieces of your NFP Insurance Puzzle.
No forms at renewal – providing your turnover hasn't increased >20%, you've had no claims in the past year and your organisational activities remain mostly the same.