Community Health Promotion Officer (Regional Services) Northern Rivers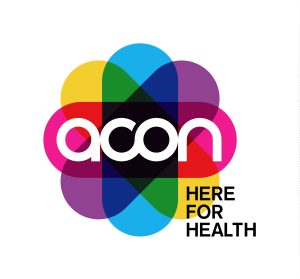 Do you want to leap into a career that improves the health and wellbeing of the regional LGBTQ+ community?
We are on the lookout for someone to join the Community Health Promotion team and play a vital role in HIV and STI prevention across the Northern and Mid North Coasts of NSW.
What's Community Health Promotion you say?
ACON provides Community Health Promotion to regional areas of NSW to extend the reach of our health services, programs and campaigns. We seek to provide a regular connection and build relationships with regional LGBTQ+ communities and PLHIV or affected by HIV. Our outreach teams visit regularly to:
Promote HIV and sexual health testing, treatment and care.
Provide safe sex information and resources.
Promote a positive experience of sexual health.
Deliver information and education about HIV, sexual health, the LGBTQ+ experience and LGBTQ+ health.
Support referrals to appropriate services within ACON and locally.
Advocate for an informed, healthy, resilient and inclusive LGBTQ+ community.
Ok, so what's the role?
The Community Health Promotion Officer role is to educate our communities by using existing ACON Health campaigns that focus on People Living with HIV (PLHIV) or affected by HIV and the LGBTQ+ community. You will:
Deliver peer education in partnership with community-based organisations and groups, Local Health Districts and other relevant stakeholders to implement ACON's state-wide HIV and STI prevention initiatives and other LGBTQ+ health promotion activities.
Maintain and strengthen partnerships between ACON and service providers, community networks / groups, businesses, venues, organisations and events.
Coordinate; HIV, STI, and LGBTQ+ education outreach at community events, volunteer participation, and the supply of safe sex equipment and health promotion campaigns.
Maintain accurate records of health promotion activities, including the monitoring and evaluation of effectiveness.
Represent the needs of ACON's communities among key stakeholders.
Work in partnership with Aboriginal and/or Torres Strait Islander stakeholders to respond to the HIV and sexual health promotion needs of sexuality and gender diverse Aboriginal and Torres Strait Islander people, including brotherboys and sistergirls.
Amplify the voice of regional LGBTQ+ communities in research by promoting local research initiatives that inform health sector planning. Maintain knowledge of contemporary and emerging HIV, STI, and LGBTQ+ research and communicate findings to LGBTQ+ communities.
The role requires frequent travel across the NSW Northern and Mind North Coast regions.
Who are we looking for?:
Someone driven to grow our following and foster a community through engaging conversations.
Someone who takes initiative and can work autonomously within a collaborative team.
Someone who can set priorities, plan and organise work, and deliver on agreed outputs as defined in both the unit-level and individual-level workplans.
Someone eager to actively participate in, and contribute to, an ongoing process of supervision, building a positive team culture, information exchange and effective team meetings, quality improvement and professional development.
What else can we tell you?
ACON provides a colourful, nurturing, and fun workplace. Our employees and volunteers are the foundation for our ongoing effectiveness and for our capacity to deliver innovative community engagement and health promotion programs and initiatives for our communities.
To support the successful candidate in their new role at ACON we offer:
Flexible working arrangements.
Generous learning and development opportunities.
Potential for tailored mentoring opportunities.
Supportive working environment with a knowledgeable and friendly team.
What's the remuneration and working details?: 
Salary: $66,749 to $80,817 (Gross per-annum, PLUS Superannuation and Leave Loading) – commensurate with skills, qualifications, and experience.
Location: ACON's Northern Rivers Office in Lismore NSW.
Hours: Permanent, Full-Time (70 hours per fortnight) on an ongoing contract.
We offer flexible working arrangements and a generous array of entitlements often above the National Employment Standards (NES) including:
Salary Packaging up to $30,000 gross up value (i.e., currently up to $15,899 tax free).
Generous pro-rata leave entitlements – including up to an extra week of paid leave for full time employees to be taken during our Christmas and New Year's shutdown period.
Employee Assistance Program (EAP) – access to a comprehensive counselling service free to employees.
Details
| | |
| --- | --- |
| Applications Close | December 3, 2023 |
| Job Board | NCOSS Community Jobs |
| Job Category | Nursing & Allied Health |
| Job Field | LGBTIQ |
| Employment Basis | Full Time |
| Salary Range | $67,263-$83,486 |
| Location | North Coast NSW |
Essential Criteria
Demonstrated experience in the development, implementation and evaluation of community development and health promotion programs within a community organisation context.
Demonstrated understanding of sexual and general health issues and the information needs of gay/bi+/queer men (cis and trans) and the sexuality and gender diverse community.
Proven ability to plan and undertake health promotion outreach activities across a wide geographical area, including peer education, and to provide appropriate client referrals as required.
Ability to meet deadlines when working independently or remotely when there are competing demands and timeframes.
High-level interpersonal skills, including excellent written and oral communication skills and the ability to work as a member of a team.
Demonstrated high-level skills in the establishment and management of a range of internal and external stakeholder relationships and a proven ability to respond appropriately to competing demands and interests.
Understanding of and commitment to ACON's rural and regional communities, particularly people with HIV.
Applicants must provide evidence of up-to-date Covid 19 Vaccination, in addition to any other vaccination required to perform the role.
A current NSW driver's licence and ability to travel frequently.
Desirable Criteria
Qualifications or a willingness to obtain qualifications in health promotion, public health, community development, healthcare, adult education, and/or a Certificate IV in Workplace Assessment and Training are desired, but not essential.
How to Apply
How can I find out more details and apply?: 
If this sounds like you, we invite you to apply to join our team and help us make a meaningful impact on the lives of those we serve. By joining us, you will be part of a mission to create a healthier and more inclusive community.
We'd love someone who has experience already in this area but people at all levels of experience are absolutely welcome to apply. We highly encourage Aboriginal and Torres Strait Islander people, people from CALD backgrounds, people with disabilities, and people of all genders to apply.
For more information on the role, please contact Brad Bower, Regional Manager, Northern Rivers, bbower@acon.org.au or Sharyn Marshall, Team Leader Health Promotion, smarshall@acon.org.au . By phone (02) 6622 1555.
If this sounds like the position and organisation you've been looking for, find out how to apply at:
https://www.acon.org.au/about-acon/jobs/#community-health-promotion-officer-regional-services-northern-rivers.
All applications must include:
Your completed ACON Employment Application Form – with all the details filled in where requested;
Your Cover Letter outlining how you meet the Selection Criteria (max. 3 pages); and
Your Resume (max. 3 pages).
ACON Health Limited
ACON is Australia's largest health promotion organisation specialising in community health, inclusion, and HIV responses for people of diverse sexualities and genders. Established in 1985, ACON works to create opportunities for people in our communities to live their healthiest lives.
We are grounded in the belief that diversity is our strength, our differentiator, and at the core of who we are and what we do. As part of our commitment to inclusion, we encourage applications from people living with HIV, Aboriginal and Torres Strait Islander people and LGBTQ people from culturally, linguistically and ethnically diverse, migrant and refugee backgrounds, and LGBTQ people of colour.