NCOSS & NSW Legislative Council Parliamentary Inquiries Workshop (Parliament House, Sydney)

NCOSS & NSW Legislative Council Parliamentary Inquiries Workshop (Parliament House, Sydney)
May 11, 2021 @ 8:45 am

-

1:00 pm

Free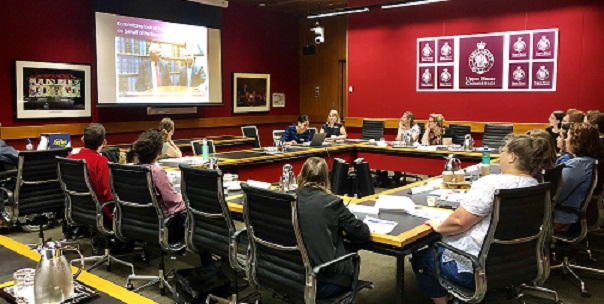 This well-regarded learning event is now back face-to-face!
This workshop is for people working in Policy, Advocacy or management in the New South Wales community sector, whose work potentially involves taking part in Parliamentary Inquiries.
It is FREE to attend, but numbers are limited and RSVP is required. Please scroll down the page to reserve your place.
---
How to have your say and maximise your influence
Do you work for a non-government organisation and want to know more about Parliamentary Inquiries, so that you can participate and influence policy?
Do you want to build your skills in writing submissions or in appearing as a witness?
This workshop is most useful for people who have limited or no experience in writing submissions or taking part in hearings. It is also well-regarded by those who would like to refresh their knowledge and skills in the subject areas.
Discussions are facilitated by staff members of the NSW Legislative Council parliamentary committees, as well as by an NCOSS Advocacy team member.
The emphasis will be on practical tips for effective advocacy and participation, including:
Parliamentary Committees and the Inquiry process
Using Inquiries Strategically
A Parliament Committee member's perspective: what Inquiries achieve, what makes a good submission, what makes an effective witness
How to write effective submissions
The hearing process and tips for witnesses
---
Some feedback from previous participants:
This is a fantastic workshop that many people would be interested in attending!
Getting a Member of Parliament to come and give their perspective about the Inquiry process was most useful. Everything was really good.
A balanced range of how the information was provided- case studies, verbal, visual, guest speaker. (Made it) easy to understand a fairly complex process.
---
COVID-safe guidelines

The NSW Parliament House (Macquarie Street, Sydney) enforces COVID-safe guidelines. All visitors and staff must: (1) have their temperatures checked at the contactless temperature checking kiosk in the guardhouse; and (2) 'check in' to Parliament House via the Service NSW app, for contact tracing purposes. A manual sign-in option is also available at either the Legislative Assembly or Legislative Council front desk.
Queries about this event to: info@ncoss.org.au