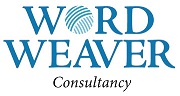 WordWeaver Consultancy is focused on positive outcomes for not-for-profit clients and in turn, their clients, who are often from the most disadvantaged groups in our society.
Catherine Weaver, the consultancy's Principal, offers a wealth of experience in writing policy, reports and articles covering such diverse areas as disability, domestic and family violence, institutional child sexual abuse, drug and alcohol support programs, and Voluntary Out of Home Care for Aboriginal children.
During her time in the NSW Public Sector, Catherine spent eight years as a grant funding manager, overseeing funding to more than 100 community based organisations, including Community Legal Centres, Neighbourhood Centres and Peak bodies such as the Tenants' Union of NSW and the Financial Counsellors' Association. The knowledge and experience she gained in that role has made her consultancy an obvious 'go to' choice for the preparation and editing of NFP funding applications.
As the WordWeaver website attests, this Consultancy offers professional services in the areas of:
Program Evaluation
Grant funding applications and tenders
Grant Program design
Policy research and analysis of key social policy issues
Report writing
Geographical spread or limits:
The nature of the work undertaken by WordWeaver Consultancy allows us to provide services to all Australian states and territories. Although we work out of offices in Sydney and Brisbane, we are happy to travel anywhere within Australia for meetings to discuss clients' briefs.
Services provided
Policy and procedure development
Policy research and analysis
Design of community grant programs
Grant applications and tenders
Program evaluations
Report writing
Media Articles and Press Release writing
Speech Writing
Training Documents
Values and principles statement:
WordWeaver appreciates the key role of NFPs in the provision of much needed services to, and effective advocacy on behalf of, disadvantaged community members.
WordWeaver understands the need for value for money in a tight funding environment and we offer competitive rates for quality service.
WordWeaver is committed to providing professional service and delivering high quality outcomes tailored to meet individual clients' needs. We work collaboratively with clients to set and meet project deadlines. To ensure that clients are kept abreast of project progress we provide regular feedback and maintain regular communication.
Contact Details