Wrap up: NCOSS' 2021 AGM and Celebrating the Sector! event

Wrap up: NCOSS' 2021 AGM and Celebrating the Sector! event
December 6, 2021 @ 8:00 am

-

January 31, 2022 @ 5:00 pm
Friday, 26 November 2021 saw us holding our AGM and Celebrating the Sector! at the fabulous Casula Powerhouse Arts Centre and by live stream. Thanks to all those who were able to join us in person, despite the gloomy weather, and those who made it online.
A special thanks to our MC, 7 News journalist who grew up in Western Sydney, Sarina Andorolo; Tharawal Local Aboriginal Land Council's Culture and Heritage Officer, Hamani Tanginoa, who performed the powerful Acknowledgement of Country; and our panelists, Elfa Moraitakis, Tairyn Vergara, Daniel Gobena and Nene Brown.
Our panel discussion
Grass roots, community services organisations – in partnership with local Councils and small businesses like Nene's – have done amazing work during the Delta outbreak that locked down most of West and South West Sydney. There are so many lessons to be learned.
Grass roots organisations need to be properly resourced so they can do what they do best. And that's to respond, quickly, to urgent community needs, and keep people safe and connected.
The lockdowns have also shone light on the immense value of long-standing, trusting relationships between local, place-based services and the communities they work with, and how these close connections can be harnessed to better respond to public health or other crises.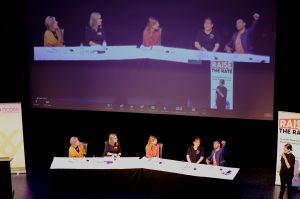 Our panelists in action. From left to right: Elfa, Tairyn, our MC, Sarina, Nene and Daniel (aka Superman!). Photo by Andrew Reilly.
Meet our fabulous panelists...
Elfa is the CEO of SydWest Multicultural Services and an NCOSS Board member. She's been involved in the sector for more than 30 years and has extensive background in developing and delivering services for linguistically disadvantaged communities, with a focus on engaging community and stakeholder participation. Elfa was awarded with the 2017 Blacktown Woman of the Year title for supporting women from CALD background establishing their businesses and was one of the 2020 UNSW Alumni finalists for Social Impact & Service.
Tairyn, a Chilean immigrant, has been CEO of The Parks Community Network since 2005. Parks is a placed-based organisation situated in the Fairfield LGA, which is one of the most culturally diverse cities in Australia. Her passion is to help vulnerable individuals, families and communities to find their voices, build their skills and achieve great things, working together. Among many other roles – including as a member of the LCSA Board – Tairyn is a Carer Representative for Carers NSW. This role is very important to her personally and professionally, due to her experiences with disability and having a child with Autism.
Daniel is a husband, father to Sara and Siena, and Manager of the Mount Druitt Ethnic Communities Agency, an independent community based organisation dedicated to informing, linking and empowering people from culturally diverse backgrounds to enhance a culturally rich and diverse Australia. Activist and lawyer, Noel Pearson's, concept of Australia as three story nation – First Peoples, then the colonisers, and then migrants and refugees – strongly resonated with Daniel, and he brings that to his work helping to resettle new arrivals and working with local communities to tell their stories.
Nene is co-founder – with husband, Darryl – of indigenous-led business, Kallico Catering, located in Rooty Hill. Kallico Catering is where bush tucker meets contemporary Australian cuisine. During the lockdown, Nene and Darryl got the Yura bada – People eat initiative off the ground, so families in lockdown got fed. At the height of the crisis, they were preparing more than 3,000 free meals a day, working from early morning to late at night. Nene's now working on establishing a community kitchen in the area.

Our fabulous panelists, captured in front of SydWest Multicultural Services' Capturing the Moment photographic exhibition. From the left: Daniel Gobena, Elfa Moraitakis, MC Sarina Andoloro, Tairyn Vega and Nene Brown. Photo by Andrew Reilly.
The legends from Kallico Catering, keeping locals fed! Photo supplied.

"What a fantastic example of what happens when passion and collaboration meet. Very inspiring – thanks for such a great session"

Kerry Pelijis, CEO, LEAD
School Gateway Project
Olivia Wright, NCOSS' Director, School Gateway Project, provided an overview of the project, funded through three-year grant by Allan and Gill Gray Philanthropy Australasia. The School Gateway Project, which is premised on Victoria's successful Our Place model, will provide a whole-of-family approach to the delivery of joined-up services that support children and families to overcome barriers and meet aspirations in life and education.
Olivia was joined by Poppy Loueizi, Principal of the Ashcroft Public School which will be our partner school in the project, and Poppy's two Deputy Principals, Karen Ali and Lyndell Holden. Poppy told us that being able to participate in this project felt like winning the lottery.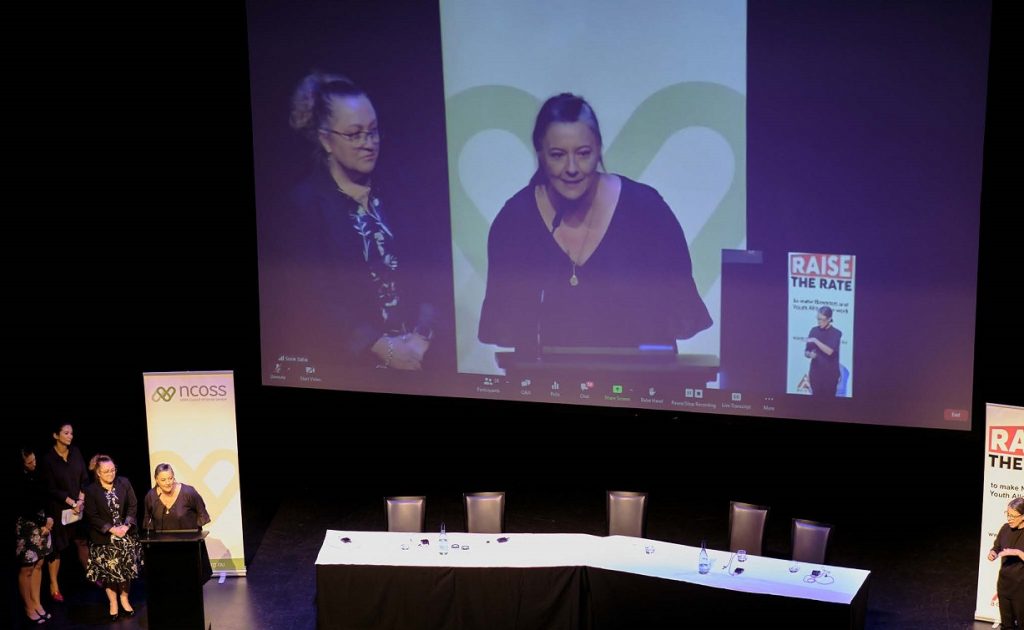 Poppy Louezi, Principal of Ashcroft Public School, with her Deputies, Karen Ali and Lyndell Holden, and Olivia Wright, Director, School Gateway Project, from NCOSS. Photo by Andrew Reilly.
Thanks to the Sector
We heard from some of our leaders with messages of thanks to our sector. These included the Premier, Dominic Perrottet; Opposition Leader, Chris Minns; Family, Community and Disability Services Minister, Alister Henskens; Shadow Minister for Family and Community Services and Shadow Minister for Disability Inclusion, Kate Washington; Dr Kerry Chant, NSW Chief Health Officer; Shane Fitzsimmons, Commissioner of Resilience NSW; Catherine D'Elia, A/Deputy Secretary, Department of Communities and Justice; and Violet Roumeliotis, CEO of Settlement Services Australia.
You can see their messages here.
While it was great to hear how much the sector is appreciated, CEO of Foodbank NSW and ACT and newly elected NCOSS President, John Robertson, challenged us to reframe the narrative.
People who live with poverty or other disadvantages are some of the most resourceful and resilient members of the broader NSW community. Labels like 'vulnerable,' 'struggling' or 'needy' can be disempowering. We're all just people and everyone has basic human rights to an adequate income, a roof over their heads, food on the table, education for their kids and access to essential services.
Wrapping up the day
Wrapping up the day, we announced the winners of our Celebrating the Sector! prize draw and the winner of our Showcasing Local Talent award.
Because nothing says "thanks" like some extra cash, we called for nominations for amazing individuals, frontline workers in three categories – and an amazing team from anywhere in NSW – for our Celebrating the Sector! prize draw. The winners are...
Brenda Ngyuen, Senior Youth and Family Caseworker at Community First Steps in Fairfield, who won the $250 individual prize in the frontline worker in West or South West Sydney category.
Lea-Anne Miller, Aboriginal Health Worker at Yerin in Wyong, who won the $250 individual prize in the frontline worker employed by an ACCO category.
Amanda El Gazzar, an Advocate from the Northern Rivers Tenants Advice & Advocacy Service who won the $250 individual prize in the frontline worker in rural, regional or remote NSW category.
The team at the Tomaree Neighbourhood Centre in Salamander Bay, including Georgina Scott, Clare Saunders, and Suze Crompton, who'll be among those sharing the $1,000 team prize.
A big congratulations to our winners and thanks to all those who participated. We got close to 300 nominations across the four categories.
Thanks, also, to our long term, strategic communications partner, Australian Public Affairs, who sponsored the individual category prizes.
Congratulations also go to Canterbury-Bankstown local, Jessie Waratah, who received our Showcasing local talent award, comprising a $1,000 cash grant. We also put on an exhibition of her work at CPAC's amazing Turbine Hall on the day, and a virtual exhibition will run to 31 January. The award was sponsored by SydWest Multicultural Services, in partnership with NCOSS.
You can find more information about our Showcasing local talent award, meet the artist,  and visit her virtual exhibition Water Nourishes, Water Connects, here. Jessie's works are for sale, so get in quick. She also takes commissions.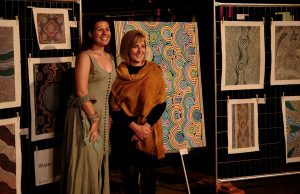 Jessie Warratah and Sydwest Multicultural Services' CEO, Elfa Moraitakis. Photo by Andrew Reilly
We were also delighted to exhibit Sydwest Multicultural Services' inspiring Capturing the Moment photo exhibition, which touches on important moments in the lives of local refugee women and was yet another exhibition that had its run disrupted by the pandemic.